TAHITI GUITAR &
DRUMS LIVE 2012

VIRGIL DONATI
MICHAEL ANGELO BATIO
FLORENT ATEM
CAROLE ATEM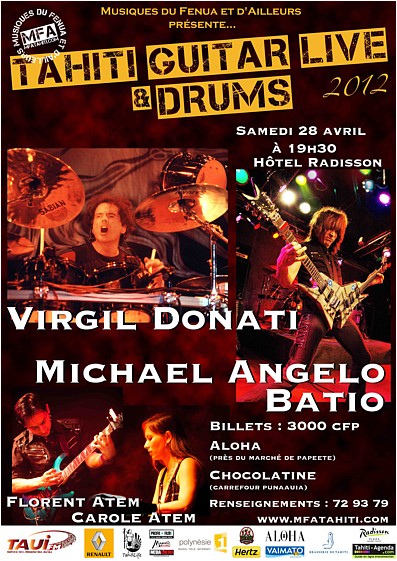 Musiques du Fenua et d'Ailleurs presents: "Tahiti Guitar & Drums Live 2012", featuring guitar wizard Michael Angelo Batio, drums virtuoso Virgil Donati, as well as Grammy-nominated guitarist Florent Atem and keybordist Carole Atem.
Saturday, April 28th, 2012, in the Endeavour Room at the Radisson Plazza Tahiti Resort in Arue, Tahiti. Show starts at 7:30 p.m.
Reserved seating
TICKET PRICE: 3000 F
VIP TICKETS AVAILABLE FOR 5000 F: - front rows
- meet and greet
- aftershow free cocktail
TICKETS AVAILABLE AT:
- ALOHA (located near the Marketplace in Papeete)
- CHOCOLATINE (Carrefour Punaauia)
For additional information, please call: 72 93 79

CALL 72 93 79 NOW TO RESERVE YOUR SEATS!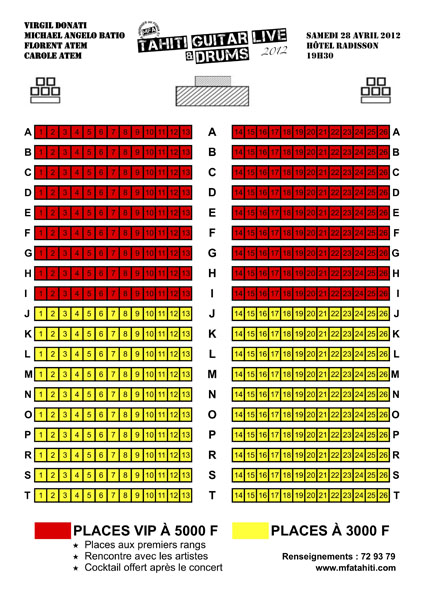 ..................................................